For full article and more information please click here!
"It's time to restore this grand public square to not only its original glory, but to go beyond that vision to one that will improve the square and allow its upkeep to be more manageable while making the square itself more beautiful, attractive and useful," said Mayor Purzycki. "The City is very grateful to be able to support the efforts of the Rodney Square Conservancy, which in 2016 set itself on a course to remodel and improve the square. These efforts are now underway with government and private support. It is a partnership that will revitalize and preserve historic Rodney Square for the entire community and for future generations."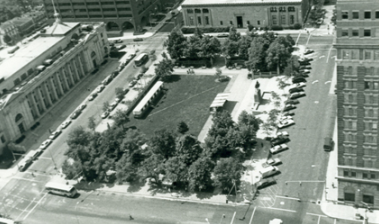 "I've called the City of Wilmington home for 30 years, and it's clear that the success of our largest city is directly linked to our success as a state," said Governor Carney. "This is an investment in the center of Wilmington to revitalize Rodney Square, attract new jobs and business to our city, and give all Wilmington families more options to get outside and enjoy everything our city has to offer. Across Wilmington, we're making investments in neighborhoods, in city schools, and critical infrastructure to help make sure that all Wilmington residents see and feel the benefits of Wilmington's success. We're pleased to support this effort."
The multiple-year, two-phased public and privately-funded renovation project will include new masonry and paving, improved irrigation systems, upgraded lights and electrical system, lighted fountains, planters, benches and tables, trash and recycling collection bins, as well as new trees, shrubs and green areas. The new square is also being designed to accommodate a wider range of smaller community events in addition to the more traditional larger events staged at the square. Improved accessibility to the square and more community-based activities are the primary goals of the renovation project.
WhyFly is also a "No Shenanigans" Internet Service Provider. We believe that good relationships don't begin with a contract. Binding our customers to contracts only would show that we don't believe in our service– and we DO! We want to cultivate a trusting relationship and treat our customers as if you are our neighbors — because you are!